Queen's Award Winning
Company 2018/2020
eelo 1885 Explorer eBike - Folding Electric Bike with 1 Year Unlimited Mileage Manufacturers Warranty
Regular price
$1,245.00 USD
Regular price
$1,869.00 USD
Sale price
$1,245.00 USD
Unit price
per
Max speed:

15.5mph (Road Legal Max)

Max combined mileage:

40 miles

Battery:

36V 7.8Ah LG lithium battery

Charging time:

3-4 Hours

Motor Power:

250W Brushless Motor

Open Size:

125cm x 56cm x 105cm

Folded Size:

60cm x 38cm x 58cm

Handlebar height:

80-103cm (adjustable)

Weight:

16.6kgs (Including Battery)

Seat height:

70-98cm (adjustable)

Wheel Type:

14" alloy wheels

Max load:

100KG
Read More....
Definitely recommend this bike
I bought an eelo bike last week. I have now done 46 miles and love the bike. I was a bit worried about the wheel size at 14". I am 6ft 2 hence on the upper limit of the recommended height and I have no problem riding the bike and or the wheel size. If anything it is better as it is so compact when folded when compared to other bikes. Plus Gareth and his team are so helpful. So definitely recommend this bike.
Andrew Hyman
Great choice
Been looking for a long time but so many on the market settled for the eelo and so glad I did mid-priced but everything you need, no derailer to go wrong, 3 gears, no assist, pedal-assist or just use the thumb switch and enjoy the ride, easy to fold and great battery life, fantastic commuter, would highly recommend. Great after sales team.
Pete Sullivan
eelo 1885 EXPLORER - FOLDING ELECTRIC BIKE
New 2023 Model! GO FURTHER, FASTER, FRESHER - The eelo 1885 EXPLORER Electric is the ideal choice for the train commuter, caravanner, motorhome owner, boating enthusiast. Take the hard work out of cycling and avoid the sweat with electric biking.
When it comes to safety and reliability in the world of electric bikes, the eelo folding electric bike stands out as a superior choice. This bike is powered by a battery from LG, a globally recognised brand known for its high-quality electronics. Unlike many competitors that use unbranded or lesser-known batteries, the eelo bike's LG battery offers a guarantee of quality, durability, and safety.
One of the unique safety features of the eelo folding electric bike is the design of its battery housing. The battery is fully enclosed within the bike's frame, providing an extra layer of protection against physical damage and environmental factors. This design feature significantly reduces the risk of battery failure, a common concern among e-bike users.
In contrast, many other e-bikes on the market have batteries that are not securely housed, exposing them to potential damage and increasing the risk of safety issues. By choosing the eelo folding electric bike, you're not only investing in a high-quality, reliable e-bike, but also prioritizing your safety and peace of mind.
Remember, a safe ride is always the best ride, and with the eelo folding electric bike, safety comes standard.
Great bike. Great service
I've had mine for a month. Good solid comfortable bike. I've done about 200 kilometres. All good.
The service is second to none. Great buy.
Great little bike
Cracking little bikes (we got 2)
Bought them to use with motorhome, as we don't tow a car. Very useful to pop to the shops and a bit of sightseeing. This isn't a criticism, but, as we go off grid from time to time, is their any chance of a 12v charger being made available?
We have a solar panel and twin leisure batteries and that would be really useful
Thanks for a great quality product
Great purchase
Love it. Did 33 miles on battery first trip. Only negative not good for the posterior bit saddle sore. Really happy , looking forward to weather improving to go out again.
Perfect Power
Great service. Best electric bike I've had.
Eelo 1885 electric bike
We have just purchased two of these brilliant aluminium compact folding electric bikes which fit into a small space on our boat. All in all they are everything we could have hoped for; the delivery and after sales service was superb and we thoroughly recommend this product as the best value folding electric bike available in the UK today.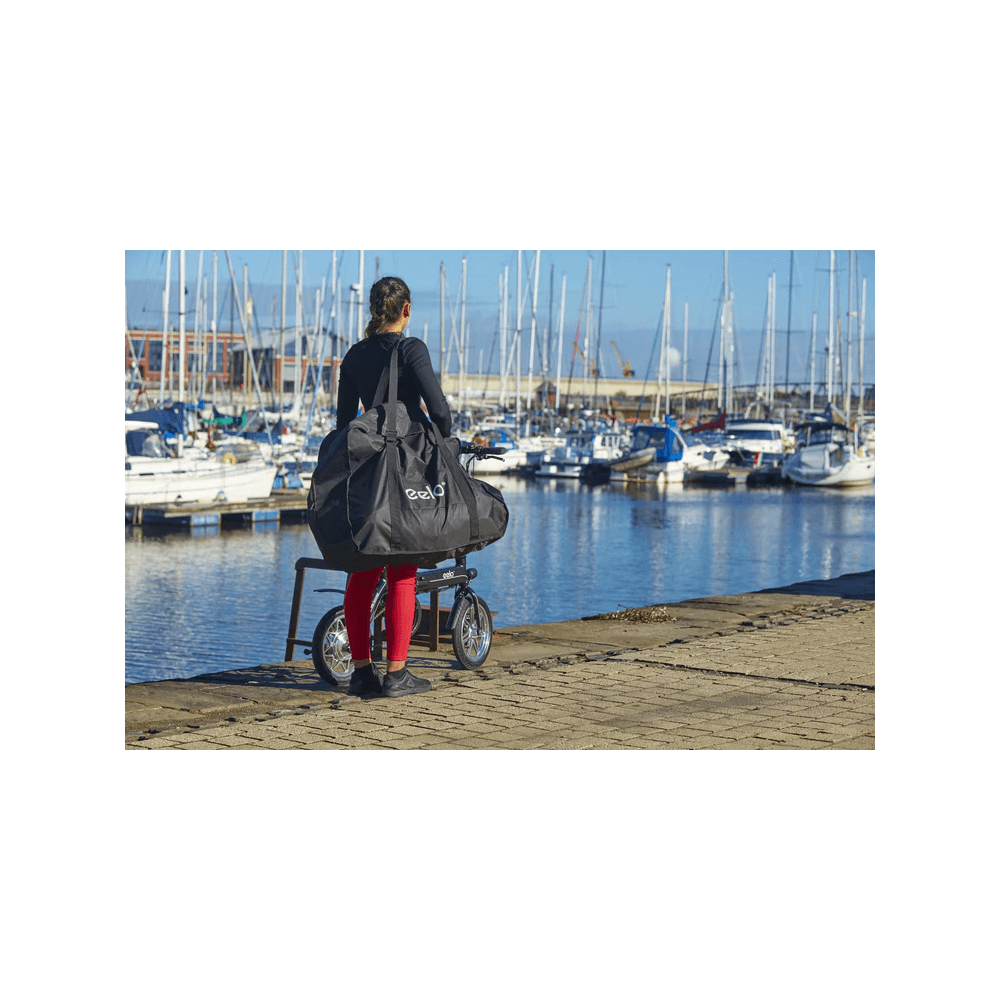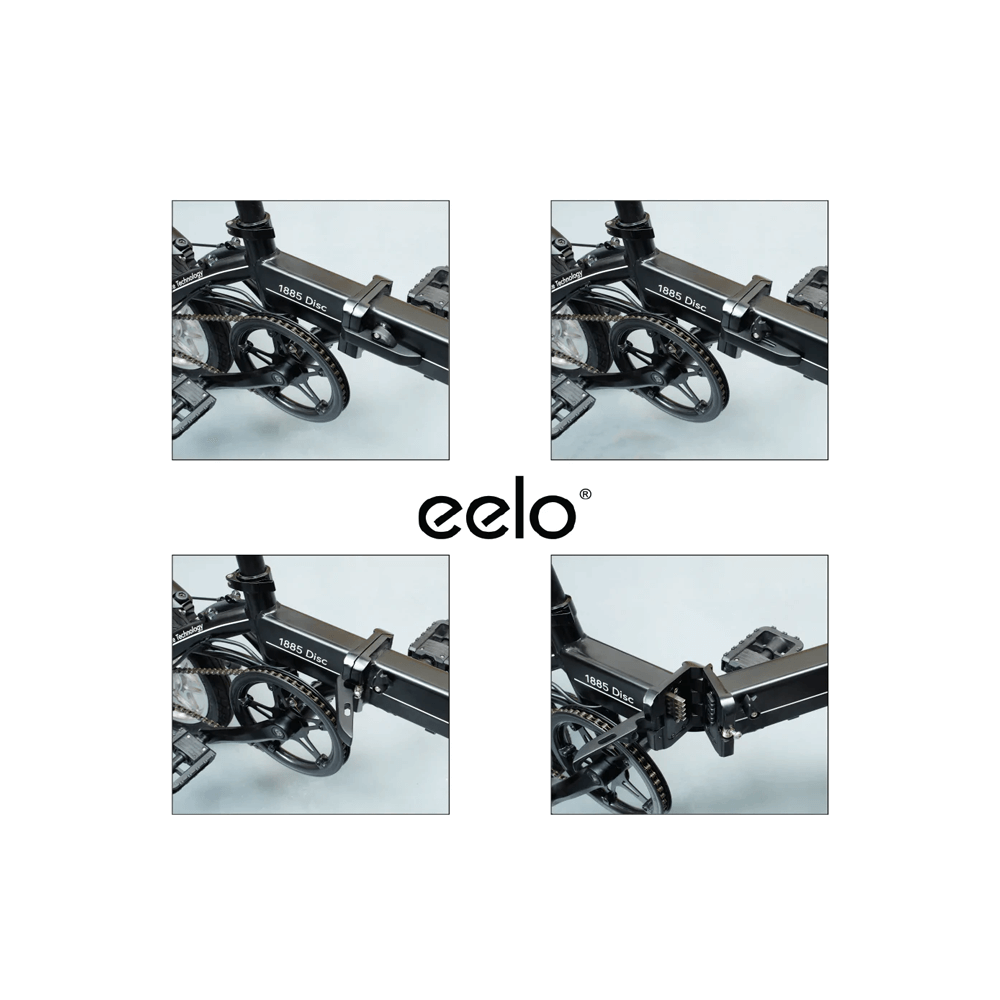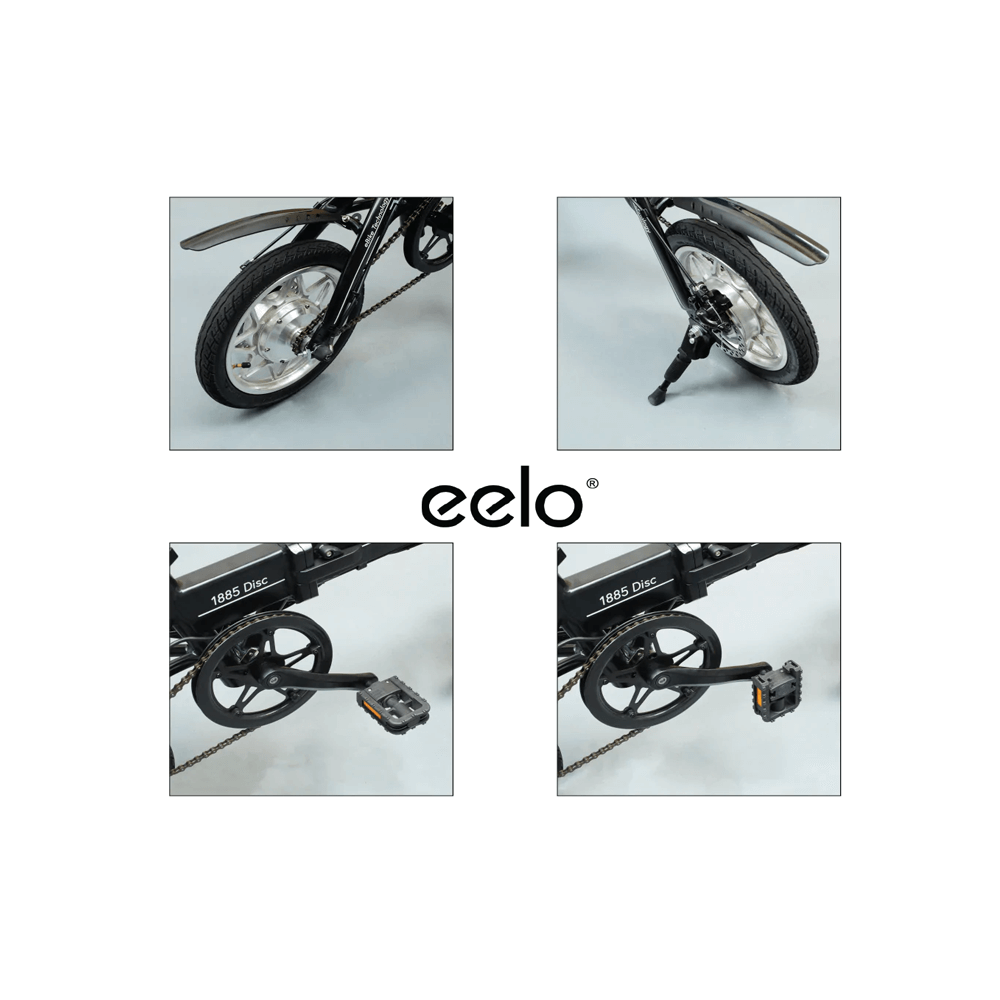 Technical Specification
e-Drive takes e-bike riding to the next level with 3 speed fully automated pedal assistance, leaving you to simply enjoy the ride.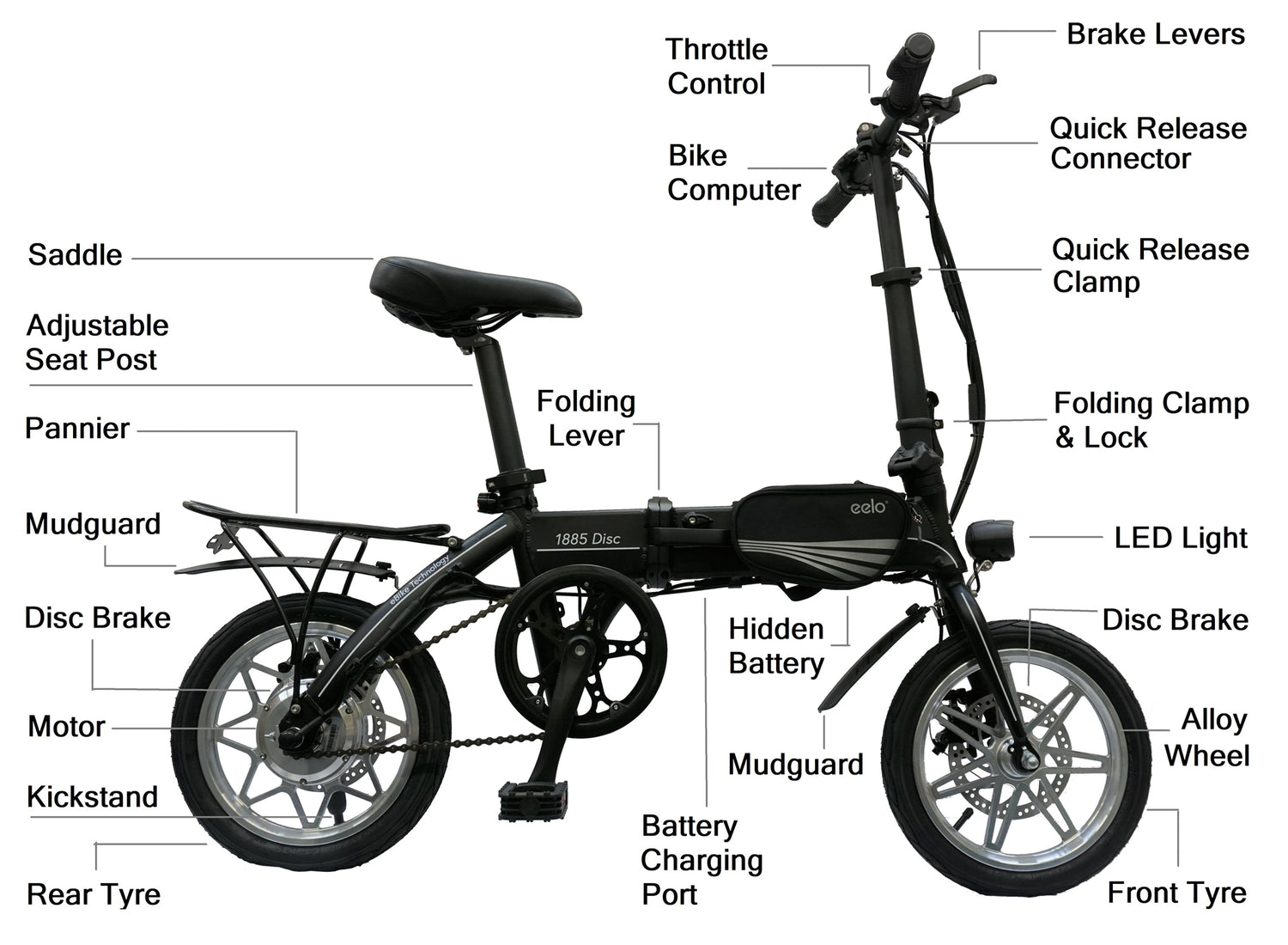 Additional Features
Hidden Battery, LED lights, Front and Rear Disc Brakes, Front and Rear Mud Guards, Adjustable Seat Post, Throttle Control, Bike Computer, Alloy Wheels.
WEIGHT:

16.6kgs (Including Battery)

RANGE:

40 miles on a single charge

ELECTRIC/THROTTLE ONLY RANGE:

8-10 Miles average (Kick start so road legal)

MECHANICAL WARRANTY:

3 Year Parts and Labour

ELECTRICAL WARRANTY:

2 Year Parts and Labour (Including Battery)

HANDLEBAR RIDE HEIGHT:

80-103cm

SEAT RIDE HEIGHT:

70-98cm

FOLDED DIMENSIONS:

W 37cm x L 61cm x H 59cm

TOP SPEED:

15.5mph* (Road Legal Max)

MOTOR / POWER:

Custom Rear Hub Motor / 250W

BATTERY TYPE:

Lithium-Ion LG

BATTERY SPECS:

36v 7.8Ah 280.8Wh/36v

CHARGE TIME:

4.5hrs/5.5hrs

DISPLAY:

Backlit LCD with controls

COMPUTER:

Custom with modifiable assist and speed mode

READOUTS:

Distance travelled, current velocity (mph or kph), battery monitor and assist level

PEDAL ASSIST:

3 Levels

FRAME:

Full aluminium foldable in 3 steps with foldable pedals

FORK:

Custom aluminium

BRAKES:

Tektro Disk Brakes

TYRES:

Kenda All Weather Black 14*1.75/44/254

ROAD LEGAL:

Worldwide